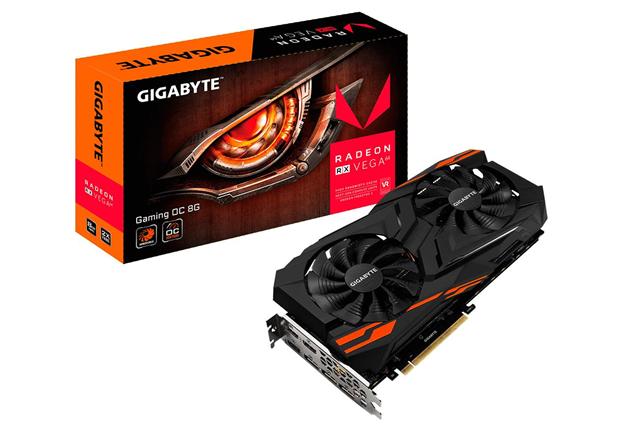 Gigabyte has introduced Radeon RX VEGA 64 gaming OC 8G graphics card. Powered by the latest AMD Radeon RX VEGA 64 GPU, paired with 8GB of 2048bit high bandwidth memory, the card is designed for extreme gamers looking to run their games at the highest resolutions, highest framerates, and maximum settings, according to the vendor.
The new Radeon RX VEGA 64 is further enhanced to deliver advanced Windforce cooling and versatile output connectivity for an ultimate gaming experience, the vendor added.
The Radeon RX VEGA 64 is equipped with two 100mm fans paired with five composite copper heat pipes in direct touch to the GPU. Excessive heat from GPU not only gets dissipated utilizing the massive cooling module in the front but also through the back side with a copper plate, providing a well-rounded thermal solution for the GPU. One heat-pipe also extends to the back to dissipate heat from the key components. Other cooling features, such as the alternate spinning fan design, the angular fin design, and semi-passive fan profile, together deliver enhanced thermals.
The Radeon RX VEGA 64 supports up to six displays with three Display port and three HDMI outputs, according to Gigabyte. The additional HDMI ports also allow gamers to connect their VR headset and displays simultaneously.
The Radeon RX VEGA 64 is built with a protective metal back plate. The card is further backed by a 12+1 power phase design for load balance.