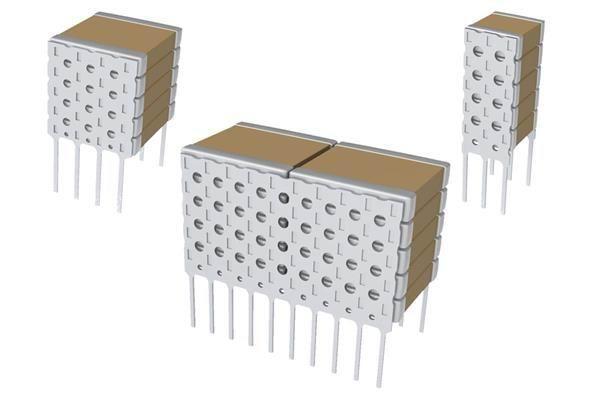 Kemet has launcheds KPS-MCC C0G high temperature 200 degrees Celsius bulk capacitance solution for harsh environment applications. Developed by combining Kemet's C0G/NPO base metal electrode (BME) dielectric system with lead frame technology, these capacitors are meant for demanding high temperature, high voltage and high vibration applications such as down-hole oil exploration, automotive and hybrid electric vehicles (HEV), defense and aerospace.
The Kemet C0G BME dielectric system is designed to provide high reliability at operating temperatures up to 200 degrees Celsius, while maintaining high insulation resistance, very low ESR and very high ripple current capability at high frequencies, according to the vendor. This series provides stability with no capacitance change versus DC voltage. A high melting point (HMP) solder for lead attachment enables multiple chips to be stacked in parallel to provide bulk capacitance.
Available in three case sizes, the KPS-MCC series offers voltages up to 2,000V and capacitance up to 2 microfarads in a footprint of less than 0.55 square inches. Each case size can be ordered in a straight pin, formed "L," or formed "J" configuration and with a silver (Ag) or solder coated (SnPb) termination finish.