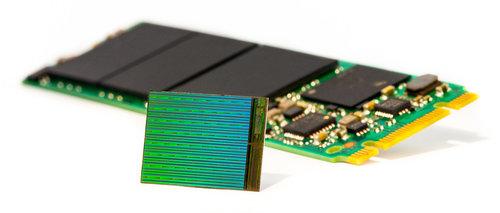 Intel and Micron have jointly announced the availability of their 3D NAND technology. This new 3D NAND technology, jointly developed by the companies, stacks layers of data storage cells vertically to create storage devices with three times higher capacity than competing NAND technologies, according to the companies.
Intel and Micron chose to use a floating gate cell. This is the first use of a floating gate cell in 3D NAND, which was a key design choice to enable greater performance and increase quality and reliability.
The new 3D NAND technology stacks flash cells vertically in 32 layers to achieve 256Gb multilevel cell (MLC) and 384Gb triple-level cell (TLC) die that fit within a standard package. These capacities can enable gum stick-sized SSDs with more than 3.5TB of storage and standard 2.5-inch SSDs with greater than 10TB. Because capacity is achieved by stacking cells vertically, the individual cell dimensions can be considerably larger, the companies indicated.
The 256Gb MLC version of 3D NAND is sampling with select partners, and the 384Gb TLC design will be sampling later in spring 2015. The fab production line has already begun initial runs, and both devices will be in full production by the fourth quarter of 2015.