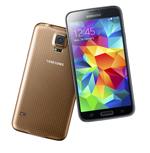 Samsung Electronics has announced the Galaxy S5, its flagship smartphone for 2014.
The new Galaxy S5 provides a personal fitness tracker to help users monitor and manage their behavior, along with additional tools including a pedometer, diet and exercise records, and a built-in heart rate monitor. Galaxy S5 users can further customize their experience with a third-party app ecosystem and the ability to pair with next generation Gear products for real-time fitness coaching.
The Galaxy S5 is IP67 dust and water resistant. It also offers a Finger Scanner, providing a secure, biometric screen locking feature and a safe mobile payment experience to consumers. The Ultra Power Saving Mode turns the display to black and white, and shuts down all unnecessary features to minimize the battery consumption.
The device will be available globally through Samsung's retail channels, e-commerce and carriers in April.