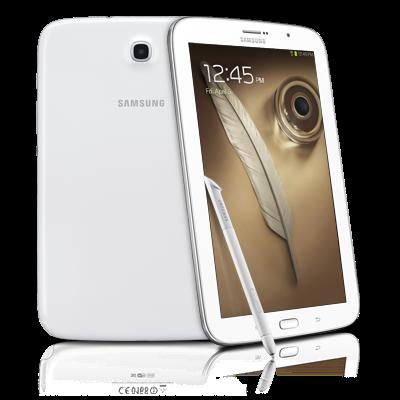 Samsung Electronics has announced that the Galaxy Note 8.0 is coming to the US market on April 11. Unveiled globally at Mobile World Congress in February, the Galaxy Note 8.0 will be available in stores and online at retailers including Amazon, Best Buy/Best Buy Mobile, h.h. gregg, Newegg, P.C. Richard & Son, Staples and TigerDirect.com
The Galaxy Note 8.0 features a 1.6GHz Quad Core processor and 2GB of RAM, Wi-Fi technology with dual-channel bonding, and a 4,600 mAh battery. Beyond the 16GB of internal memory, the Note 8.0 can handle microSD cards up to 64GB, for a combined possible 80GB of storage. The 5-megapixel camera on the back can shoot 1080p video, and the 1.3-megapixel front-facing camera can handle video chats at 720p resolution.
The Galaxy Note 8.0 will be available in white for US$399.99 MSRP.