Cree introduces 200lumens/W LED
Photo: Company
Monday 24 December 2012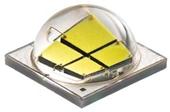 Cree has delivered the XLamp MK-R LEDs. The new MK-R LEDs leverage the SC3 Technology next-generation LED platform to deliver up to 200 lumens-per-watt (at 1 W, 25 degrees Celsius) LEDs.
The MK-R LEDs make the next generation of 100+ lumens-per-watt system possible for high-lumen applications, including outdoor and indoor directional applications, such as halogen replacement lamps, Cree said. For systems that use multiple LEDs, MK-R enables manufacturers to use fewer LEDs while still maintaining light output and quality, which translates to lower system cost.
The MK-R LED features a 7mm by 7mm footprint with a 6mm optical source and delivers up to 1600 lumens at 15 W, 85 degrees Celsius. Characterized at 85 degrees Celsius, the MK-R component offers minimum CRI options of 70, 80 and 90 (at selected color temperatures).