Cree introduces single-die LEDs
Photo: Company
Thursday 20 December 2012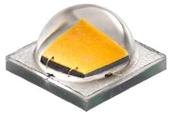 Cree has introduced XLamp XM-L2 LEDs. The new XM-L2 LED delivers up to 186 lumens/W at 350 mA, 25 degrees Celsius.
Built on Cree's SC3 Technology next-generation LED platform, the new XM-L2 LEDs double the lumens-per-dollar and deliver 20% more lumens-per-watt over the original XM-L LED íV enabling lighting manufacturers to use fewer LEDs to deliver a better lighting system for lower cost, the vendor said.
The new XM-L2 LEDs are designed for very-high-lumen applications such as indoor, high-bay and outdoor lighting. The XM-L2 LEDs are compatible with existing XM-L LED designs and leverage the 5mm by 5mm XM footprint íV allowing customers to incorporate the XM-L2 LEDs into existing XM LED designs to shorten the fixture design cycle and improve time-to-market.