Osram introduces Oslon Black Flat
Photo: Osram
Friday 21 September 2012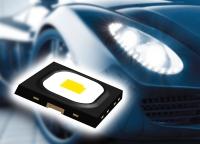 The Oslon Black Flat is the new LED from Osram Opto Semiconductors for automotive frontlighting systems.
Equipped with a ceramic converter, the new LED contains a UX:3 chip that delivers high light output even at high currents, according to Osram. With a power draw of 2.3W and an operating current of 700mA, the Oslon Black Flat achieves a typical luminous flux of 200 lm (at 25 degrees C). If operated at 1.2A it can achieve up to 270 lumen - despite an application temperature of 100 degrees C in the chip.
The Oslon Black Flat was developed in Regensburg and has been designed to function without a lens. Its light can therefore be injected very close to light guides or lenses, said Osram. Its luminance, in other words what the human eye perceives as the brightness of a particular surface, is 2-5 times higher than comparable LEDs in its class at 70 -100 Mcd/m2 (million candelas per square meter).