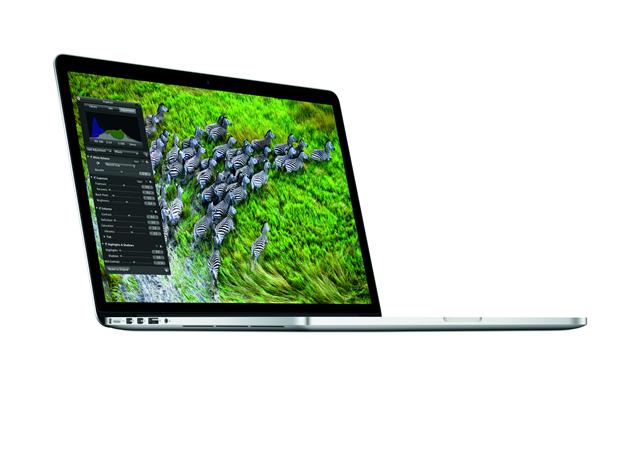 Apple has unveiled a new 15-inch MacBook Pro featuring a Retina display, all flash storage and quad-core processors in a thin and light design measuring 0.71 inches thick and weighing 4.46 pounds.
The Retina display features five million pixels, three million more than an HD TV. At 220 pixels-per-inch, the Retina display's pixel density is so high the human eye cannot distinguish individual pixels from a normal viewing distance, so text and graphics look sharp, Apple said. The Retina display uses IPS technology for a 178-degree wide viewing angle, and has 75% less reflection and 29% higher contrast than the previous generation.
Featuring an aluminum unibody design and an all flash storage architecture, the new MacBook Pro is the lightest MacBook Pro and nearly as thin as a MacBook Air, Apple said. Flash storage that is up to four times faster than traditional notebook hard drives enables the new MacBook Pro to play four simultaneous streams of uncompressed 1080p HD video from internal storage. The flash storage architecture also delivers improved reliability, instant-on responsiveness and 30 days of standby time.
The new machine features Intel Core i7 quad-core processors up to 2.7GHz with Turbo Boost speeds up to 3.7GHz, Nvidia GeForce GT 650M discrete graphics, up to 16GB of faster 1600MHz RAM and flash storage up to 768GB, Apple said. Two Thunderbolt and two USB 3.0 ports allow users to connect to multiple displays and high performance devices, and a new HDMI port offers connectivity to HDTVs.