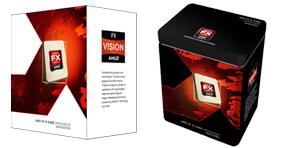 AMD has released the FX family of CPUs for desktop PC users. The AMD FX series includes the first-ever eight-core desktop processor, enabling multi-display gaming, mega-tasking and HD content creation for PC and digital enthusiasts - all for less than US$245.
This marks the first retail availability of processors that use AMD's new multi-core architecture (Bulldozer), which is included in AMD's upcoming server CPU (Interlagos) and the next-generation of AMD accelerated processing units (APUs).
All AMD FX CPUs offer completely unlocked processor clock multipliers for overclocking. These processors use AMD Turbo Core Technology to optimize performance across CPU cores enabling maximum performance for intense workloads, the vendor said.
The four CPUs are: FX-8150 with eight cores and 3.6GHz CPU base (3.9GHz Turbo Core, 4.2GHz Max Turbo) at US$245; FX-8120 with eight cores and 3.1GHz CPU base (3.4GHz Turbo Core, 4.0GHz Max Turbo) at US$205; FX-6100 with six cores and 3.3GHz CPU base (3.6GHz Turbo Core, 3.9GHz Max Turbo) at US$165; and FX-4100 with four cores and 3.6GHz CPU base (3.7GHz Turbo Core, 3.8GHz Max Turbo) at US$115.