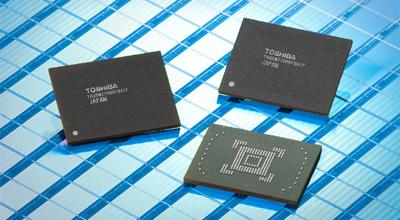 Toshiba has announced the launch of a 128GB embedded NAND flash memory module, which it claims is the highest capacity yet achieved in the industry. The module is compliant with the latest eMMC standard, and is designed for application in a wide range of digital consumer products including smartphones, tablet PCs and digital video cameras, the vendor said.
Toshiba said samples of the new 128GB embedded devices will be available from September, and mass production will start in the fourth quarter of 2010.
Toshiba's 128GB NAND flash module integrates 16 64-gigabit (equal to 8GB) NAND chips fabricated with its 32nm process technology, and a dedicated controller into a small package only 17x22 x1.4mm. Toshiba claimed it is the first company to succeed in combining 16 64Gb NAND chips, and applied advanced chip thinning and layering technologies to realize individual chips that are only 30 micrometers thick.
Toshiba now offers a line-up of single-package embedded NAND flash memory in densities from 2GB to 128GB. They integrate a controller to manage basic control functions for NAND applications, and are compatible with the JEDEC eMMCTM Version 4.4 and its features. New samples of 64GB chips will also be available from August.