CES 2010: Toshiba unveils lineup of 32nm MLC SSDs
Photo: Company
Friday 8 January 2010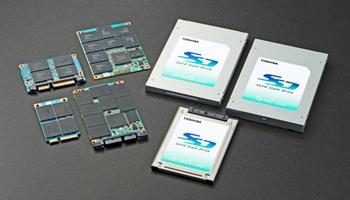 Toshiba has announced an expanded line-up of NAND flash-based solid state drives (SSDs) based on the company's 32nm MLC NAND flash memory.
Toshiba's new drives are the 128GB half-slim/mSATA SG series SSD modules for mobile applications including mini mobile PCs and netbooks, and the HG series for notebooks, gaming and home entertainment systems.
Both new series support the TRIM command implemented in Windows 7. TRIM enables the OS to tell the SSD controller that the data can be actually deleted, freeing the blocks for subsequent use and maintaining SSD performance across its life, the company said.
Samples of the new Toshiba SSDs will be available in the first quarter of 2010, with mass production scheduled for the second quarter.