Applied HCT Diamond Squarer for solar wafers
Photo: Company
Wednesday 7 October 2009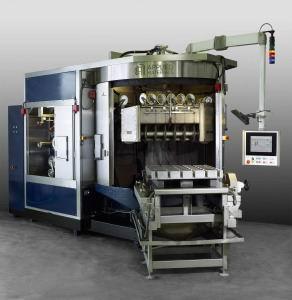 Applied Materials has introduced ts new HCT Diamond Squarer system, which can reduce the cost of squaring silicon ingots by up to one-third while offering at least twice the cutting speed of conventional squaring processes.
The HCT Diamond Squarer system uses diamond particles bonded to a metallic wire core to cut the ingot faster. In addition to increasing machine capacity and lowering energy consumption, this technology simplifies the squaring process by eliminating the complexity and expense of slurry management, the company said.
The Applied HCT Diamond Squarer system is the latest addition to Applied's suite of solutions for manufacturing silicon wafers for solar PV cells, which includes the Applied HCT MaxEdge wire saw for slicing ingots into ultra-thin wafers. The new HCT diamond wire process has been validated by multiple customers, the company said.