Applied Materials multiple printing technology for solar cells
Photo: Company
Monday 21 September 2009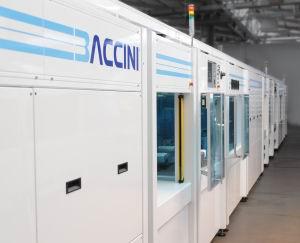 Applied Materials has announced its Baccini Esatto technology, a multi-step screen printing capability designed to increase the efficiency of crystalline silicon (c-Si) solar cells. The technology enables the fabrication of advanced contact structures to increase the efficiency of c-Si solar cells.
The Baccini Esatto technology provides customers with an upgrade to their current and future Baccini back-end systems with reliability and high repeatability, the company said. It allows multiple layers of different materials to be overlaid with better than กำ15micron repeatability.
The technology was designed to enable advanced contact formation techniques such as double-printed frontside metal lines and the multiple process flows required to create selective emitter structures. The first application in production is for double-printed metal lines, enabling manufacturers to print taller, narrower grid lines, thus reducing the shadowing effect caused by wide grid lines while improving electrical conductivity, the company said.