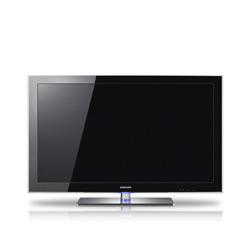 Samsung Electronics has introduced a new series of LED TV, the Series 8, with sizes of 46 inches and 55 inches.
The Series 8 LED TVs feature 5,000,000:1 Mega Contrast and 240Hz technology.
The LED TVs use 40% less power than conventional LCDs, and they are free of lead, mercury and other VOCs compared to 2008 similar size class Samsung LCD TVs in standard mode, the vendor said.
Other features include Internet@TV that allows users to receive content via Yahoo!, Flickr, and other online TV Widgets. USB 2.0 Movie: Multi-Media Center makes it easy to watch movies, browse photos and listen to music on your TV, the company added.
The 55-inch model is sold at US$3,999.99, while the 46-inch model is sold at US$3,299.99.