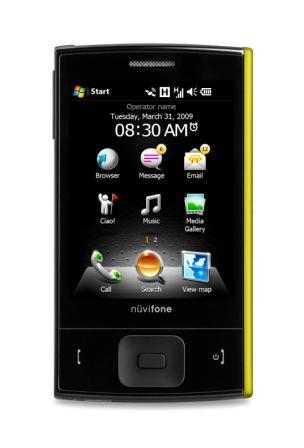 The first Garmin-Asus nuvifone is powered by Windows Mobile 6.1 Professional which combines a dual-band 3.5G/tri-band GSM phone with Wi-Fi connectivity, desktop-like internet browser, push email, document viewing, multi-media capability, Bluetooth and Garmin sat nav.
It features a full QWERTY soft keyboard, HSDPA wireless connectivity and enterprise grade Wi-Fi (802.11 b/g).
It supports download speeds of up to 7.2 Mbps and offers a desktop-style web browsing experience.
It has the navigation capability of a premium Garmin nuvi sat nav, and comes with preloaded maps and points of interest (POIs).
The nuvifone M20 has entertainment capabilities with the combination of a 2.8-inch TFT touch lens display, built-in microphone and speakers, built-in 4Gb/8Gb My Storage, and ActiveSync for Outlook, Microsoft Office, and multi-media synchronization.