AUO turns on first 46-inch LCD TV panel from 8.5G facilities
Photo: Company
Tuesday 16 December 2008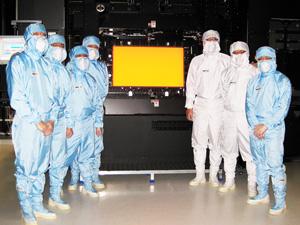 AU Optronics (AUO) has announced that it has turned on its first 46-inch LCD TV panel produced by the company's 8.5G fab at its Taichung Science Park site.
AUO's 8.5G mother glass substrate is 2,200mm x 2,500mm large and can be cut up to six 52-inch or 55-inch panels and eight 46-inch panels. The 8.5G line in Taichung is targeted to enter mass production in the third quarter 2009.
The monthly full capacity of G8.5 line is 40,000 glass substrates.