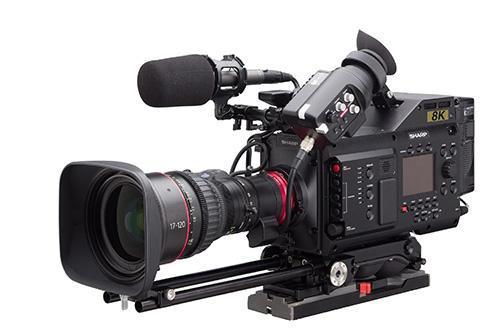 Sharp's 8C-B60A 8K (60p) professional camcorder integrates capabilities for video shooting and recording, playback, and line output. The 8C-B60A was developed with technical cooperation from Astrodesign, a company possessing 8K image technologies, according to Sharp.
Besides the ability to shoot images in high resolution 8K (60p), this camcorder is designed to offer ease of use in shooting and recording and to lessen the burden on the camera operator in the post-recording editing process, Sharp said. The 8C-B60A's image pickup device is a large, Super 35-mm-equivalent CMOS image sensor with 33 million pixels. Compression utilizes a coding method that exerts minimal burden on the CPU, thus enabling efficient 8K (60p)-image editing and approximately 40 minutes of continuous recording (when using the bundled 2-TB SSD pack). Because it allows real-time output of 8K uncompressed images at the same time that recording is taking place, the 8C-B60A can be used for live transmissions as well.
With this professional-use camcorder as the entry point to the creation of 8K images, Sharp said it is striving to disseminate 8K image content in its aim of establishing an 8K ecosystem at the earliest possible date.