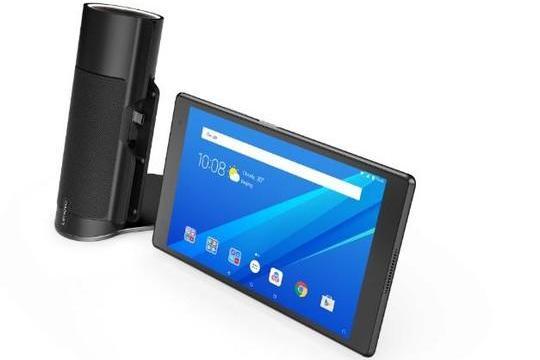 Lenovo has introduced at IFA 2017 the Home Assistant Pack to support its Tab 4 series. The Home Assistant Pack works with Amazon Alexa and makes any tablet in the Lenovo Tab 4 series - the Lenovo Tab 4 8, Lenovo Tab 4 10, Lenovo Tab 4 8 Plus and Lenovo Tab 4 10 Plus - a voice-activated smart assistant with a screen.
Visual information can be shared on screen to go along with responses from the smart assistant. And with the optional Kid's Pack and Productivity Pack, the Lenovo Tab 4 now lets users do more, with one device, according to the vendor. Offering the option to transform into a smart assistant, a 2-in-1 and a kid's tablet, the Lenovo Tab 4 series offers one tablet with multiple uses.
The Home Assistant Pack boosts the sound of the Lenovo Tab 4 with two three-watt speakers. Far-field detection recognizes the user's voice from up to three meters from any direction through two built-in mics, according to Lenovo. Attach the Lenovo Tab 4 to the docking station, and the screen automatically switches to the home assistant interface.