Infineon MEMS microphones with 70 dB signal-to-noise ratio
Photo: Company
Tuesday 25 July 2017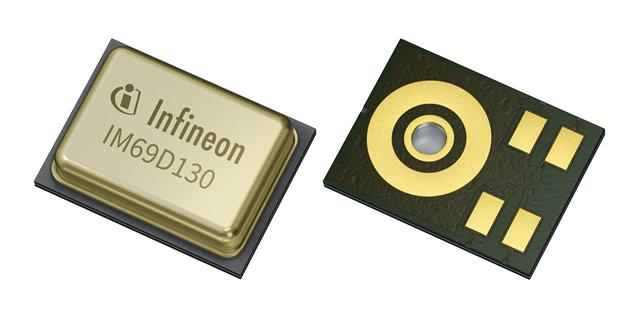 Infineon Technologies is entering the packaged silicon microphone market, addressing the needs for high performance, low noise MEMS microphones. The analog and digital microphones are based on Infineon's dual backplate MEMS technology and distinguish themselves with a 70 dB signal-to-noise ratio (SNR), according to the coompany. This is combined with a low distortion level of 10% at a 135 dB sound pressure level (SPL). It is in a 4 mm x 3 mm x 1.2 mm MEMS package.
Current MEMS microphone technology uses a sound wave actuated membrane and a static backplate. Infineon's dual backplate MEMS technology uses a membrane embedded within two backplates thus generating a truly differential signal, the company said.
The SNR of 70 dB is an improvement of 6 dB compared to a conventional MEMS microphone, according to Infineon. This improvement is equivalent to doubling the distance from which a user can give a voice command that is captured by the microphone.