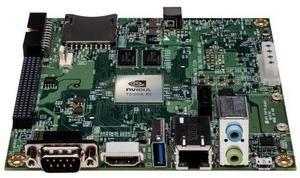 The Nvidia Jetson TK1 Developer Kit provides developers with the tools to create systems and applications that can enable robots to navigate, physicians to perform mobile ultrasound scans, drones to avoid moving objects and cars to detect pedestrians.
The Jetson TK1 Developer Kit includes a full C/C++ toolkit based on Nvidia CUDA architecture, making it much easier to program than the FPGA, custom ASIC and DSP processors that are commonly used in current embedded systems.
At the heart of the Jetson TK1 Developer Kit is the Tegra K1 mobile processor, Nvidia's 192-core chip built on the Nvidia Kepler architecture.
The Jetson TK1 Developer Kit comes with the full support of the CUDA 6.0 developer tool suite, including debuggers and profilers to develop massively parallel applications. CUDA 6 also brings to the ARM platform Nvidia's accelerated libraries for FFTs, linear algebra, sparse matrix, plus image and video processing.