Osram Ostar Projection P2W
Photo: Company
Wednesday 18 December 2013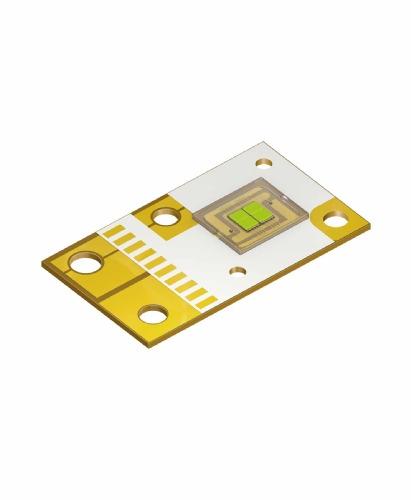 Osram Opto Semiconductors has introduced two new high-power versions of the Osram Ostar Projection for projectors with a brightness of up to 1700 lumen.
The Osram Ostar Projection LEDs offer high luminous flux from the available chip surface. Between 1000 and 8300 lumen can be produced depending on the color and the LED version. An antireflex coated glass cover instead of the usual lens, together with external optics, ensures that the light is well bundled, the vendor said.
The two new LEDs can be used in office projectors with brightness levels of up to 1700 lumen. At the heart of the product is a 2-square millimeter LED high-current chip based on thin-film and UX:3 technologies. The two LED versions contain two (P1W) or four chips (P2W) with a total luminous area of 4- and 8-square millimeter, respectively.
The two new Osram Ostar Projection LEDs will be premiered at the 2014 International CES. Volume production is due to start in March, Osram said.