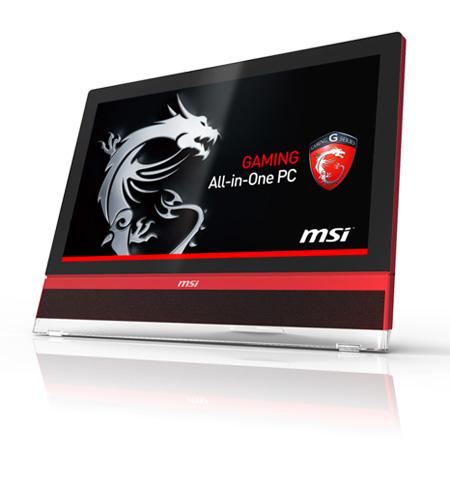 Micro-Star International (MSI) has introduced a 27-inch, all-in-one gaming PC, the AG2712A, featuring the Intel Core i7 3630QM quad-core processor, AMD's Radeon HD 8970M discrete graphics card, and up to 2GB GDDR5 graphics memory. The AG2712A comes in color of red.
MSI incorporated the latest AMD Radeon HD 8970M discrete graphics card into the AG2712A with supports of DirectX 11.1 - the latest 3D API, to enhance the gaming experience for enthusiasts.
MSI also adopts its Flicker-Free technology into the new all-in-one PC's anti-glare display. The technology supports both touchscreen and non-touchscreen models. The Flicker-Free technology stabilizes electrical currents and stops most flickering, which is generally invisible, regardless of computer settings, to protect eyes and prevent tiring that result from viewing screens for long periods of time, according to the vendor. In addition, the AG2712A supports MSI's Blue Light Control technology to effectively reduce blue light emitted from the screen.
MSI has also integrated its Military Class 4 materials and components, including high-quality SFC, Hi-c CAP, and Dark CAP, into the AG2712A. The AG2712A has passed third party MIL-STD-810G (military standard) laboratory testing to ensure that materials and components to remain stable after a long-term of use.