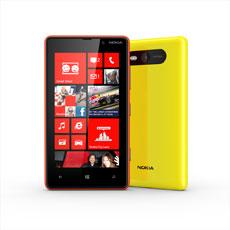 Nokia has announced the Nokia Lumia 920 and the Nokia Lumia 820, the first devices in Nokia's Windows Phone 8 range. Both phones will be available in pentaband LTE and HSPA+ variants and are expected to start shipping in select markets later in 2012.
The Nokia Lumia 920 is the flagship Windows Phone 8 smartphone, including the latest advances in Nokia PureView imaging innovation. Using advanced floating lens technology, the camera in the Nokia Lumia 920 is able to take in five times more light than competing smartphones without using flash, making it possible to capture clear, bright pictures and video indoors and at night, the vendor said.
The Nokia Lumia 920 also comes with Nokia City Lens, the latest addition to the Nokia location suite. By pointing the camera at a city street, City Lens overlays information about restaurants, shops, hotels and more on the surfaces of buildings. Nokia City Lens also enhances Nokia Maps, making it possible to move between maps view and augmented reality view to help people check their direction and surroundings. Along with enhancements to Nokia Drive and Nokia Transport, the Nokia location suite of services represents a comprehensive, integrated mapping experience, the company said.
The Nokia Lumia 920 also comes with Nokia's largest ever battery (2000mAh) and, for the first time, built-in wireless charging for an easy.