Spreadtrum SC6820 baseband chip
Photo: Company
Wednesday 11 January 2012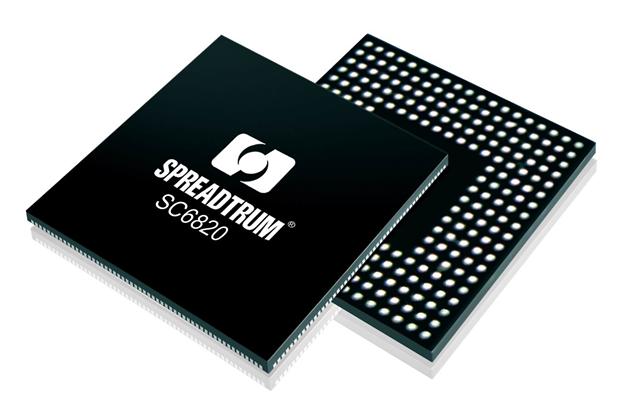 Spreadtrum Communications has introduced a 1GHz Android smartphone platform for TD-SCDMA (SC8810) and EDGE/WiFi (SC6820) and announced that both products are now sampling with customers. With these two new solutions, Spreadtrum said it is redefining the performance standard for low-cost smartphones, enabling OEMs to deliver 1GHz performance at US$100 retail prices.
Designed with 40nm CMOS silicon technology, the SC8810 and SC6820 baseband platforms are powered by a Cortex A5 1GHz processor and incorporate an advanced multimedia subsystem which includes a Mali GPU with 3D/2D graphics acceleration and supports high definition video playback, a 5-megapixel camera, a WVGA touch panel and connectivity features including Bluetooth, WiFi and GPS. The SC8810 supports TD-SCDMA with HSDPA at 2.8Mbps, HSUPA at 2.2Mbps as well as quad-band GSM/GPRS/EDGE with dual-mode auto handover, while the SC6820 supports quad-band EDGE/GPRS/GSM. Both products combine silicon hardware with turnkey Android software that reduce both the design time and design resources required to deliver new handsets to market, the vendor said.
The platform's Cortex A5 processor architecture delivers more than 40% lower power consumption compared to ARM11-based products and more than 70% lower power consumption than Cortex A9 products, the vendor said.