MSI WindPad 100W tablet PC
Photo: Company
Wednesday 29 December 2010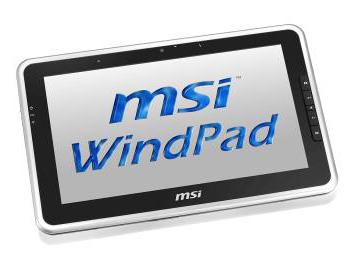 MSI will unveil two new WindPad tablets. The WindPad 100W features the Wintel platform and the WindPad 100A with the ARM/Android platform.
The MSI WindPad 100A features the new Google Android OS, a 10.1-inch multi-touch control screen, an ARM processor, a digital compass, a GPS locator, a G-Sensor gravity detecting device, an ALS light sensor, and Wi-Fi with 3G support as an optional choice to consumers.
The MSI WindPad 100W is equipped with Microsoft's Windows 7 Home Premium operating system and a 10.1-inch screen that supports multi-touch control. In addition, it is equipped with the Intel mobile processor and a 32GB SSD as well as a G-sensor, an ALS light sensor, and Wi-Fi. The device is also pre-loaded with MSI's Wind Touch software for finding any applications using the software's work and entertainment functions with just a click.