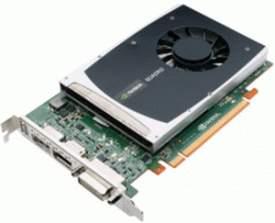 Nvidia has announced the expansion of its Quadro professional graphics solutions based on the Fermi architecture. The mid-range Quadro 2000 with 192 CUDA processing cores now bring the computational and visualization benefits of the breakthrough Fermi architecture to all segments of the market, the vendor said.
The Quadro 2000 delivers 1.5 times the geometry performance of the previous Quadro graphics processing unit (GPU) mid-range solution and utilizes the new Nvidia Scalable Geometry Engine technology to deliver higher performance across CAD and DCC applications, the company noted.
The Quadro 2000 features 1GB of graphics memory and is compatible with the new Nvidia 3D Vision Pro active shutter-glasses solution.
The Quadro 2000, priced at US$599 is available from global workstation manufacturers, including Dell, Hewlett-Packard (HP) and Lenovo, as well as authorized distribution partners including, PNY Technologies in North America and Europe, Elsa in Japan, and Leadtek in Asia Pacific.