Thermaltake SlimX3 CPU cooler
Photo: Company
Monday 12 April 2010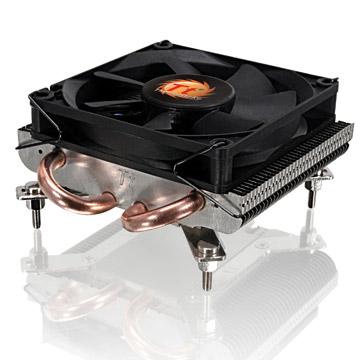 Thermaltake has launched its new CPU cooler, the Thermaltake SlimX3, targeting home theater PC users.
The SlimX3 adopts two copper heatpipes with an aluminum fins/base combination to provide cooling for multimedia oriented CPUs. Through the heatpipe design, better heat conductivity is achieved to accelerate heat dissipation, the company said. With its slim design and a height of only 36mm, the SlimX3 is optimized and ideal for use in most of mini cases.
With PWM technology, the SlimX3 can adjust the fan speed automatically between 1200RPM and 2400RPM depending on the actual CPU load. With the special clip design, the SlimX3 CPU cooler supports both Intel's LGA775 and LGA1156 sockets.