AUO 6-inch flexible e-paper
Photo: Company
Wednesday 21 October 2009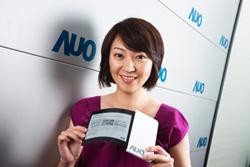 AUO has introduced its 6-inch flexible e-paper technology. Adopting Sipix's Microcup technology, the flexible e-paper features a plastic substrate, so that the e-paper can be repeatedly bended.
The product features 16 gray levels, a 9:1 high contrast ratio, and and a reflectance of 33%. In terms of power consumption, there is no electricity required during reading and it consumes power only when the image is updated.
Using the roll-to-roll manufacturing process, the technology allows for the commencement of volume production. The size of the flexible e-paper is able to be tailor-made based on customers' needs.
AUO expects to distribute samples to customers in 2010 and to start volume production then.