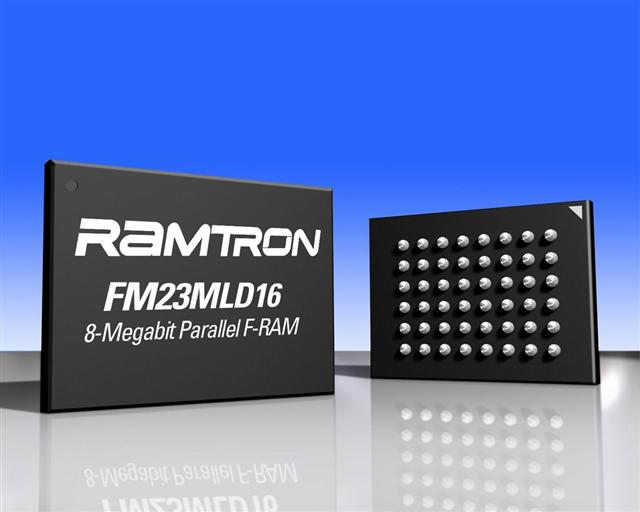 Ramtron International has announced the availability of its 8Mb ferroelectric RAM (FeRAM) memory in a streamlined FBGA package.
The FM23MLD16 is an 8Mb, 3V, parallel non-volatile RAM in a 48-pin ball grid array (FBGA) package for industrial control systems such as robotics, network RAID storage solutions, multi-function printers, auto navigation systems and other SRAM-based system designs.
The FM23MLD16 is organized as a 512Kx16 non-volatile memory, accessed with an industry standard parallel interface. Access time is 60ns and cycle time is 115ns. The device reads and writes at bus speed for NoDelay writes with endurance of at least 100-trillion writes and 10-year data retention.
The new Ramtron FeRAM features a high-speed page mode that enables 8B burst read/write operations at up to 33MHz. The device draws 9mA for reads/writes and a typical standby current of 180uA. It operates from 2.7V to 3.6V over an industrial temperature of minus 40-85-degrees centigrade.
Samples of the FM23MLD16 are available now in a 48-pin FBGA package that is RoHS-compatible. Pricing is US$29.23 in quantities of 10,000.