Vitronics Soltec's mySelective 6748 selective soldering system now features a wave height measurement system.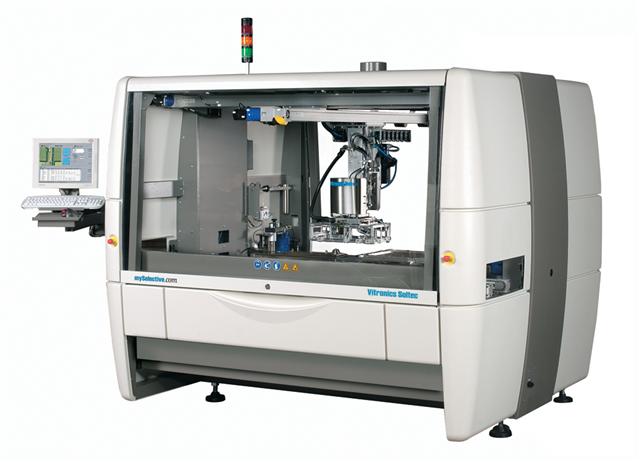 This significant process control improvement ensures a specific predetermined wave height for every single PCB by automatically adjusting the solder pump RPMs. Thus, wave height is optimized to match the height of the PCB. This ensures precise soldering, lowest possible defect levels, and board-to-board repeatability throughout the manufacturing run.
The closed-loop system uses a laser-based sensor to detect, measure, and monitor SelectWave height. The wave height measurement system prevents loss of cycle time and stores individual PCB settings in the system's management info database for later recall.
mySelective 6748 delivers high-volume production in a high-mix environment. Combined SelectWave and MultiWave soldering technology, plus on-the-fly reconfigurability, give mySelective 6748 process flexibility. Plus, In-line fluxing and preheating reduce robotic soldering cycle times for faster, more efficient process cycles. mySelective 6748 MultiFlux system and rapid-responding Preheaters enhance speed and efficiency in this robust, adaptable system. mySelective 6748 offers the ability to solder each joint under its optimum process parameters. The machine's architecture allows it to assume an optimized configuration to accommodate the appropriate process parameter settings for each individual application.