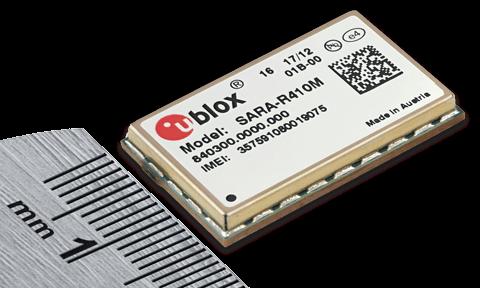 U‑blox, a supplier of wireless and positioning modules and chips, has announced the SARA‑R410M‑02B, a configurable LTE Cat M1/NB1 multi‑mode module with worldwide coverage. Measuring 16 x 26 mm, the module offers both LTE Cat M1 and Cat NB1 in a single hardware package, as well as software‑based configurability for all deployed bands.
The SARA‑R410M‑02B multi‑mode global module supports ultra‑low power consumption and cost‑optimized solutions for the development of LPWA IoT applications.
Critical firmware updates can be delivered with U‑blox's uFOTA (firmware over the air) client/server solution that uses LWM2M, a light and compact protocol that is ideal for IoT applications. This enables customers to continue using the same hardware for future enhancements to features, functionalities or operator certifications.

Another benefit of SARA‑R410M‑02B is the hardware readiness for future support of voice functionality via VoLTE over Cat M1, which can be used for applications requiring a level of human interaction, as is the case for security applications such as alarm panels, according to the company.

SARA‑R410M‑02B provides a temperature range of -40 to +85 degrees C; 3GPP coverage enhancement permits the module's connectivity to reach deeper into buildings and basements, and even underground when compared to other air interface technologies such as GSM or Cat 1, U-blox claims.