Computex 2012: Acer Aspire 7600U all-in-one PC
Photo: Company [Jun 5, 2012]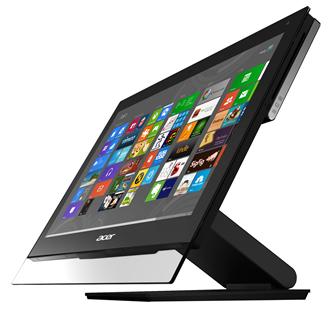 Acer has announced two new Windows 8-supported all-in-one PCs at Computex Taipei 2012 - the Aspire 7600U (27-inch) and the Aspire 5600U (23-inch).
The Aspire 7600U supports up to 64-point simultaneous touch from all angles, enabling use by multiple users at once. It features 0- to 90-degree viewing and swivels at four sides when laid flat for enjoyment by more than one user. At 35mm thin, the 7600U is designed with ultra-slim body. It delivers full HD visuals and Dolby Home Theater surround sound.
The elegant Aspire 5600U makes a stylish addition to any room in the house, whether on a desk or wall mounted. It can tilt from 30-85 degrees. It's designed for use as an everyday family-hub that presents full HD visuals and Dolby Home Theater Surround Sound.
2H 2012 global TFT panel market forecast

Digitimes Research predicts there will be a total of 389 million large-sized TFT LCD panels shipped in 2H12, with 195 million in the third quarter and 194 million in the fourth quarter - with the total representing a 7.6% increase over the first half of this year.

Trends in the China video market

In addition to strong potential video content demand in China, the market has developed rapidly due to government intervention and delays in establishing copyright protections.

Trends in Asia LED chip manufacturing industry

Asia is playing an ever more important role in upstream LED chip manufacturing. The region accounted for 80% of MOCVD demand in 2011 and will account for 90% in 2012, largely because Taiwan, Japan, South Korea and China are the major global centers for LED chip production.