HTC Titan II
Photo: Company [Jan 11, 2012]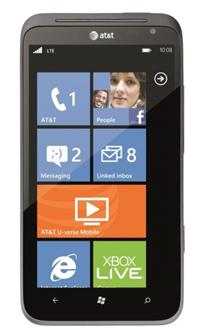 HTC has unveiled the HTC Titan II, the company's first Windows Phone to run on a 4G LTE network, which is being showcased at the 2010 International Consumer Electronics Show (CES) in Las Vegas.
The HTC Titan II comes equipped with a 4.7-inch super LCD capacitive touchscreen display, and offers quick and easy access to the latest movies and TV shows via HTC Watch and on-the-go gaming with Xbox LIVE, the vendor said.
With advanced imaging technology, the HTC Titan II features a 16-megapixel camera with a wide-angle lens, autofocus, dual LED flash, red eye reduction, image stabilization, a backside-illuminated sensor and a physical camera button. The model delivers a number of features that HTC has developed to help consumers capture photos in a variety of conditions; for instance, panoramic shot for landscapes and burst shot for action photography. The smartphone also enables 720p HD video recording with the rear-facing camera, as well as on-the-go video chat over Wi-Fi with its 1.3-megapixel front-facing camera.
The HTC Titan II is expected to become available exclusively from AT&T in the US in the coming months.
2H 2012 global TFT panel market forecast

Digitimes Research predicts there will be a total of 389 million large-sized TFT LCD panels shipped in 2H12, with 195 million in the third quarter and 194 million in the fourth quarter - with the total representing a 7.6% increase over the first half of this year.

Trends and shipment forecast for 2H 2012 smartphone market

Smartphone shipments in 2010 and 2011 both enjoyed growth of more than 60%. Growth will decelerate in 2012 due to the high base, as well as a slowdown in consumer spending in Western Europe.

Trends in Asia LED chip manufacturing industry

Asia is playing an ever more important role in upstream LED chip manufacturing. The region accounted for 80% of MOCVD demand in 2011 and will account for 90% in 2012, largely because Taiwan, Japan, South Korea and China are the major global centers for LED chip production.