Samsung Secu-NFC chip
Photo: Company [Nov 17, 2011]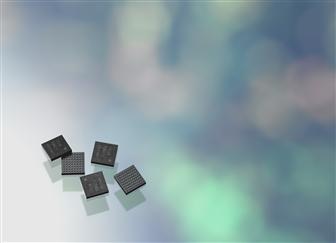 Samsung Electronics has announced its new system-in-package (SIP) near field communications (NFC) chip, the SENHRN1. The new Secu-NFC chip combines a NFC controller and a secure element storing personal information and security keys with advanced encryption technologies, a prerequisite for reliable and efficient mobile payment on NFC-enabled mobile devices.
The new solution is based on Samsung's proven in-house expertise and experience in smartcard ICs, which involves advanced RF sensitivity features and enhanced data encryption technologies, and its wealth of package technology, utilizing advanced SIP technology.
Samsung's Secu-NFC chip, packaged as a SIP, has identical form factor measurements (4.3x4.3x1.0mm) as a standalone NFC chip. This raises the area space efficiencies on mobile devices. The pin-to-pin compatibility also allows mobile device's designers to immediately adopt the new solution without additional cost, engineering and design efforts.
The embedded secure element has a 760KB high-density flash memory providing users with sufficient capacity to store one's choice of diverse mobile services such as credit card codes, e-money, transportation transaction/payment services and more.
Samsung's Secu-NFC chip, the SENHRN1 is currently sampling to customers.
2H 2012 global TFT panel market forecast

Digitimes Research predicts there will be a total of 389 million large-sized TFT LCD panels shipped in 2H12, with 195 million in the third quarter and 194 million in the fourth quarter - with the total representing a 7.6% increase over the first half of this year.

Trends and shipment forecast for 2H 2012 smartphone market

Smartphone shipments in 2010 and 2011 both enjoyed growth of more than 60%. Growth will decelerate in 2012 due to the high base, as well as a slowdown in consumer spending in Western Europe.

Trends in Asia LED chip manufacturing industry

Asia is playing an ever more important role in upstream LED chip manufacturing. The region accounted for 80% of MOCVD demand in 2011 and will account for 90% in 2012, largely because Taiwan, Japan, South Korea and China are the major global centers for LED chip production.