Samsung PM830 SSD
Photo: Company [Aug 15, 2011]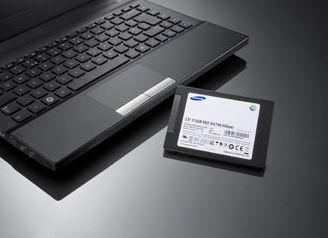 Samsung Electronics has announced volume production of SSDs (solid state drives) that support the Serial ATA Revision 3.0 interface with data transmissions at 6Gb/s.
Sample production of the SATA 6Gb/s 512GB SSDs began in May, with volume production initiated earlier this month. The new drives are expected to replace SATA 3Gb/s-based SSDs by year-end.
The 512GB SSD utilizes Samsung's 20nm-class 32Gb MLC NAND memory chip incorporating the toggle DDR interface. The new SSD doubles the performance of a SATA 3Gb/s drive, with sequential read speeds of 500MB/s and sequential write speeds of 350MB/s.
Samsung's SATA 6Gb/s SSDs are available in 512GB, 256GB and 128GB densities. The new SSD line-up is targeted for use in premium OEM notebooks, and tablets.
2H 2012 global TFT panel market forecast

Digitimes Research predicts there will be a total of 389 million large-sized TFT LCD panels shipped in 2H12, with 195 million in the third quarter and 194 million in the fourth quarter - with the total representing a 7.6% increase over the first half of this year.

Trends and shipment forecast for 2H 2012 smartphone market

Smartphone shipments in 2010 and 2011 both enjoyed growth of more than 60%. Growth will decelerate in 2012 due to the high base, as well as a slowdown in consumer spending in Western Europe.

Trends in Asia LED chip manufacturing industry

Asia is playing an ever more important role in upstream LED chip manufacturing. The region accounted for 80% of MOCVD demand in 2011 and will account for 90% in 2012, largely because Taiwan, Japan, South Korea and China are the major global centers for LED chip production.