Intel Core i5 vPro processor
Photo: Company [Mar 8, 2011]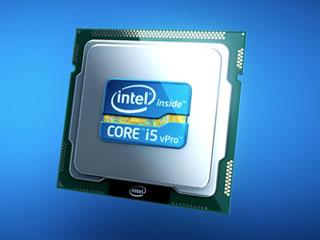 Intel has unveiled its newest family of business processors - Intel Core vPro, featuring the performance and capabilities of Intel's new microarchitecture, enhancements to Intel vPro technology and new security features, including a 3G poison pill option to help protect a PC's data.
PC brand vendors worldwide, including Dell, Fujitsu, Hewlett-Packard (HP) and Lenovo, will introduce new notebooks, convertible-tablet PCs, desktop and all-in-one PCs for enterprise market with adoption of the new Intel Core vPro processors.
The new Core vPro processors offer increased performance with enhanced Intel Turbo Boost Technology 2.0 and Intel's Advanced Vector Extensions (AVX). Comparing to Intel's previous-generation Core 2 Duo processor, Intel Core i5 vPro processor is 60% faster when running business applications and 100% faster for multitasking and 300% for data encryption, he vendor said.
2H 2012 global TFT panel market forecast

Digitimes Research predicts there will be a total of 389 million large-sized TFT LCD panels shipped in 2H12, with 195 million in the third quarter and 194 million in the fourth quarter - with the total representing a 7.6% increase over the first half of this year.

Trends and shipment forecast for 2H 2012 smartphone market

Smartphone shipments in 2010 and 2011 both enjoyed growth of more than 60%. Growth will decelerate in 2012 due to the high base, as well as a slowdown in consumer spending in Western Europe.

Trends in Asia LED chip manufacturing industry

Asia is playing an ever more important role in upstream LED chip manufacturing. The region accounted for 80% of MOCVD demand in 2011 and will account for 90% in 2012, largely because Taiwan, Japan, South Korea and China are the major global centers for LED chip production.