SiS9561 Android Internet TV SoC
Photo: Company [Jan 14, 2011]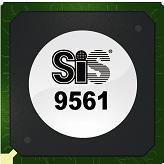 Silicon Integrated Systems (SiS) has announced that China-based TCL has adopted its SiS9561 as the key SoC component of their first generation Internet smart TV.
SiS9561, based on Android 2.2 Froyo platform, supports an enhanced Internet browser with Adobe Flash Player 10.1, Skype video conference, and Quickboot. The proprietary Quickboot scheme sustains the SiS9561 Android Internet TV platform to, within 15 seconds, boot up and activate the widget services/internet browser, the company said.
The SiS9561 Internet TV solution supports multi-language and various broadcasting television systems worldwide.
In consideration of delivering more intuitive and convenient user experience to the web browsing and cloud entertainment, SiS9561 offers various customized and easy-to-use widgets such as YouTube and Facebook.
2H 2012 global TFT panel market forecast

Digitimes Research predicts there will be a total of 389 million large-sized TFT LCD panels shipped in 2H12, with 195 million in the third quarter and 194 million in the fourth quarter - with the total representing a 7.6% increase over the first half of this year.

Trends and shipment forecast for 2H 2012 smartphone market

Smartphone shipments in 2010 and 2011 both enjoyed growth of more than 60%. Growth will decelerate in 2012 due to the high base, as well as a slowdown in consumer spending in Western Europe.

4Q12 trends in the Greater China touch panel industry

In the second half of 2012, the market focus is on the iPhone 5, which uses in-cell touch screen technology. Due to the integration of display panels and touch panel functions, the high technological threshold will mean Taiwan touch panel makers are unable to enter the iPhone supply chain.