Applied iSYS
Photo: Company [Dec 2, 2009]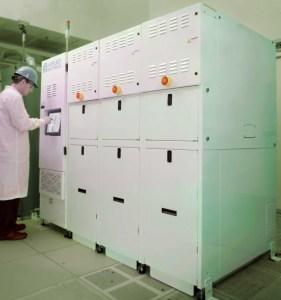 Applied Materials has unveiled what it claims is the industry's first fully-integrated abatement and vacuum pumping solution for controlling emissions in the semiconductor fab.
Networked with an Applied process tool, the iSYS system can deliver typical annual savings in power, water and gas consumption equivalent to 200MWh of energy or 220,000 pounds of CO2 emissions, compared to currently available configurations. In addition to having environmental benefits, the iSYS system lowers the utility cost for abatement and vacuum pumping on a process tool by more than 20%.
Applied said its iSYS unit can be installed in less than one day and consumes 40% less floor space than non-integrated systems. The iSYS design consolidates major components and eliminates redundancy to greatly reduce the number of external connections while optimizing maintenance ergonomics, the company said.
2H 2012 global TFT panel market forecast

Digitimes Research predicts there will be a total of 389 million large-sized TFT LCD panels shipped in 2H12, with 195 million in the third quarter and 194 million in the fourth quarter - with the total representing a 7.6% increase over the first half of this year.

Trends and shipment forecast for 2H 2012 smartphone market

Smartphone shipments in 2010 and 2011 both enjoyed growth of more than 60%. Growth will decelerate in 2012 due to the high base, as well as a slowdown in consumer spending in Western Europe.

Trends in Asia LED chip manufacturing industry

Asia is playing an ever more important role in upstream LED chip manufacturing. The region accounted for 80% of MOCVD demand in 2011 and will account for 90% in 2012, largely because Taiwan, Japan, South Korea and China are the major global centers for LED chip production.