NEC AS221WM widescreen LCD monitor
Photo: Company [Oct 6, 2009]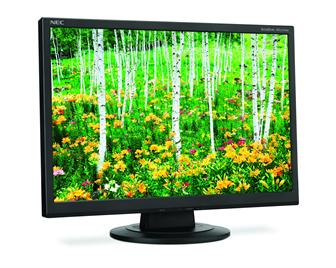 NEC Display Solutions has introduced a new energy-efficient LCD monitor to its AccuSync series, the 22-inch widescreen AS221WM.
The monitor consumes up to 48% less energy than its predecessors, and offers an EPEAT Silver rating, and Energy Star 5.0 and TCO 5.0 compliance, NEC said.
The LCD monitor also features VGA and DVI connectivity, up to 1000:1 contrast ratio, and 5ms response time.
The AS221WM is touch integratable and has a two-step Eco mode for significant power consumption savings, the company said.
The AS221WM will begin shipping in October 2009 with an estimated street price of US$249.
2H 2012 global TFT panel market forecast

Digitimes Research predicts there will be a total of 389 million large-sized TFT LCD panels shipped in 2H12, with 195 million in the third quarter and 194 million in the fourth quarter - with the total representing a 7.6% increase over the first half of this year.

Trends and shipment forecast for 2H 2012 smartphone market

Smartphone shipments in 2010 and 2011 both enjoyed growth of more than 60%. Growth will decelerate in 2012 due to the high base, as well as a slowdown in consumer spending in Western Europe.

Trends in Asia LED chip manufacturing industry

Asia is playing an ever more important role in upstream LED chip manufacturing. The region accounted for 80% of MOCVD demand in 2011 and will account for 90% in 2012, largely because Taiwan, Japan, South Korea and China are the major global centers for LED chip production.