AMD six-core Istanbul server processor
Photo: Company [Jul 27, 2009]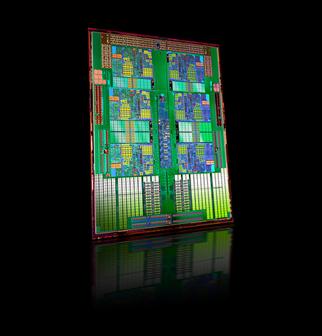 AMD has announced availability of its first six-core Opteron server processor (Istanbul) with Direct Connect Architecture for two-, four- and eight-socket servers.
Systems based on six-core AMD Opteron processors are expected to be available beginning later in the month from OEMs including Cray, Dell, Hewlett-Packard (HP), IBM and Sun Microsystems, along with support from motherboard and infrastructure partners. HE, SE and EE versions of the six-core AMD Opteron processor are planned for the second half of 2009, said AMD.
Six-Core AMD Opteron processors leverage existing platform infrastructure and a low-cost, power-efficient DDR2 memory architecture which can help lower system acquisition costs, highlighted AMD.
High performance computing (HPC), virtualization and database workloads can benefit from increased 4P Stream memory bandwidth of up to 60% enabled by HyperTransport Assist, which helps reduce processor to processor latency and traffic.
AMD Virtualization (AMD-V) technology and the AMD-P suite of power management features are available across all performance and power bands.
The new Six-Core AMD Opteron processor has up to 34 % more performance-per-Watt over the previous generation quad-core processors in the exact same platform, according to AMD.
2H 2012 global TFT panel market forecast

Digitimes Research predicts there will be a total of 389 million large-sized TFT LCD panels shipped in 2H12, with 195 million in the third quarter and 194 million in the fourth quarter - with the total representing a 7.6% increase over the first half of this year.

Trends and shipment forecast for 2H 2012 smartphone market

Smartphone shipments in 2010 and 2011 both enjoyed growth of more than 60%. Growth will decelerate in 2012 due to the high base, as well as a slowdown in consumer spending in Western Europe.

Trends in Asia LED chip manufacturing industry

Asia is playing an ever more important role in upstream LED chip manufacturing. The region accounted for 80% of MOCVD demand in 2011 and will account for 90% in 2012, largely because Taiwan, Japan, South Korea and China are the major global centers for LED chip production.