Austriamicrosystems ultra-small LED drivers
Photo: Company [Mar 11, 2009]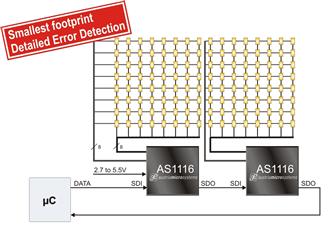 Austriamicrosystems' AS1116 operates from a single 2.7V to 5.5V supply while requiring lowest supply current of 0.6mA during operation and 200nA in shutdown mode.
The AS1116 can drive either eight 7-segment digits or 64 individual LEDs with 47mA per digit or 5.5mA per LED. The current can be adjusted by an external resistor. With an accuracy of กำ3%, the AS1116 improves picture quality of LED displays since intensity variations between LEDs and LED modules are minimized, the company said.
A unique feature of Austriamicrosystems' AS1116 is the built-in LED error detection. The AS1116 can detect any open- or short-circuit within the multiplexed 8x8 LED array and a detailed error report can be read out with the exact position of the broken LED.
The AS1116 is available in a 0.6mm thin TQFN(4x4mm) package. A QSOP 24-pin package is also available.
2H 2012 global TFT panel market forecast

Digitimes Research predicts there will be a total of 389 million large-sized TFT LCD panels shipped in 2H12, with 195 million in the third quarter and 194 million in the fourth quarter - with the total representing a 7.6% increase over the first half of this year.

Trends and shipment forecast for 2H 2012 smartphone market

Smartphone shipments in 2010 and 2011 both enjoyed growth of more than 60%. Growth will decelerate in 2012 due to the high base, as well as a slowdown in consumer spending in Western Europe.

Trends in Asia LED chip manufacturing industry

Asia is playing an ever more important role in upstream LED chip manufacturing. The region accounted for 80% of MOCVD demand in 2011 and will account for 90% in 2012, largely because Taiwan, Japan, South Korea and China are the major global centers for LED chip production.