WinHEC 2008: Ipevo Kaleido R7
Photo: CJ Liu [Dec 25, 2008]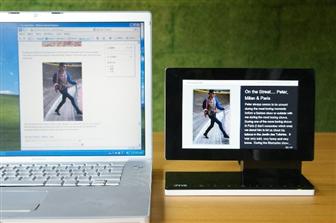 Ipevo's Kaleido R7 wireless digital photo frame recently won a WinHEC 2008 award in the media and entertainment category.
The Wi-Fi enabled device features management software called Eyestage that allows users to manage their photos from a PC an view them even when they are not at the computer. The software is also designed to support management of photo collections hosted on the Internet, with Flickr and Picassa currently supported.
Ipevo believes that a digital photo frame should be more than just a gadget to store pictures. Users can also subscribe to RSS feeds that can be viewed on the frame and is considering adding music and video support to future models.
Trends and shipment forecast for 2H 2012 tablet market

Digitimes Research remains conservative about the prospects for the period, with half-year shipments projected to reach 49.18 million units and whole-year shipments being revised downward to 88.69 million units.

Trends in the China video market

In addition to strong potential video content demand in China, the market has developed rapidly due to government intervention and delays in establishing copyright protections.

Trends in Asia LED chip manufacturing industry

Asia is playing an ever more important role in upstream LED chip manufacturing. The region accounted for 80% of MOCVD demand in 2011 and will account for 90% in 2012, largely because Taiwan, Japan, South Korea and China are the major global centers for LED chip production.