LGD volume produces 17.1-inch RGB LED-backlit LCDs for notebooks

Photo: Company [Sep 22, 2008]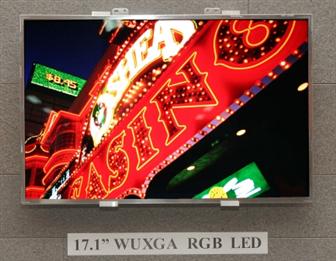 LG Display has begun volume production of its 17.1-inch WUXGA LCD panels for notebooks using RGB LED backlighting.
LGD said despite the superiority of the technology, RGB LED backlight technology has been commercialized only for LCD TVs and monitors until now, due to technical difficulties in mass production.
LGD said it took the top spot in the first half of 2008 LCD market for notebook panels, accounting for 30.2% of total global sales.
2H 2012 global TFT panel market forecast

Digitimes Research predicts there will be a total of 389 million large-sized TFT LCD panels shipped in 2H12, with 195 million in the third quarter and 194 million in the fourth quarter - with the total representing a 7.6% increase over the first half of this year.

Trends and shipment forecast for 2H 2012 smartphone market

Smartphone shipments in 2010 and 2011 both enjoyed growth of more than 60%. Growth will decelerate in 2012 due to the high base, as well as a slowdown in consumer spending in Western Europe.

4Q12 trends in the Greater China touch panel industry

In the second half of 2012, the market focus is on the iPhone 5, which uses in-cell touch screen technology. Due to the integration of display panels and touch panel functions, the high technological threshold will mean Taiwan touch panel makers are unable to enter the iPhone supply chain.