Government backing crucial for Taiwan IC achievements, says TSMC CEO
Bryan Chuang, Taipei; Willis Ke, DIGITIMES
Thursday 14 June 2018
When Texas Instruments' new engineer Jack Kilby invented the world's first IC in 1958, no one could imagine that 60 years later, ICs have deeply rooted in Taiwan, now the world's most crucial IC design and production base. But if without the government's strong backing from the very beginning, Taiwan's semiconductor industry would not see what it has achieved today, according to CC Wei, vice chairman and CEO of Taiwan Semiconductor Manufacturing Company (TSMC).
Wei made the remarks when speaking at a press conference hosted by Taiwan's Ministry of Science and Technology to kick off the "IC60 - I See the Future" series activities to mark the 60th anniversary of the first IC birth, review the developments and achievements of the local semiconductor industry, and inspire more young talent to join forces in the pursuit of further growth.
Omnipotent applications
Wei said semiconductor will become omnipotent in future applications, whether for 5G, AI, smartphones or other advanced sectors. He noted that close cooperation among players in all the related segments such as IC design, fabrication and packaging is badly needed to better tap huge application business opportunities, adding that the industry also needs the injection of fresh talent blood from campuses to create new momentum.
On the same occasion, Taiwan's science and technology minister Chen Liang-gee indicated that since Morris Chang founded the TSMC in October 1987, the semiconductor industry has grown all the way to become the "glory of Taiwan" thanks to government support, successful leaderships of Chang and other forerunners, concerted efforts of many entrepreneurs, scientists and engineers, and the accumulation of R&D achievements.
Chang said that quantum computer will take the center stage in the next decade, and Taiwan's semiconductor industry can play an important role in the AI and quantum computing fields. In this regard, Taiwan needs more creative talent to join forces to tackle many non-linear algorithm issues in the quantum computer era.
Introducing talent from abroad
The minister disclosed that the government has drafted a new law governing economic immigrants to facilitate the introduction of more creative talent from around the world. He also noted that the government will mull allowing China semiconductor R&D engineers to work in Taiwan to address the talent shortages facing the industry.
In order to inspire more campus talent to join the semiconductor industry, the science ministry will lead more than 400 registered senior high school and college students to tour, in the coming July and August, the National IC Implementation Center, National Nano Device Laboratories, and 10 semiconductor players in the Hsinchu Science Park including foundry houses TSMC, United Microelectronics (UMC), and Powerchip Technology; IC design houses MediaTek, Sunplus Technology, Realtek Semiconductor, Elan Microelectronics, and Richtek Technology; and backend service providers Siliconware Precision Industries, and YoungTek Electronics.
IC60 Forum
As part of the "IC60 - I See the Future" activities, the science ministry will also host an "IC 60 Forum" on September 5, and will invite industry heavyweights to deliver keynote speeches on the latest and future developments of semiconductors and applications, including retired former TSMC chairman Morris Chang, SEMI president and CEO Ajit Manocha, Cadence Design Systems president and CEO Lip-Bu Tan, and Shih Chin-tay, former president of the Industrial Technology Research Institute (ITRI) and chairman of the Institute of Information Industry.
The activities are jointly sponsored by many leading IC design, fabrication and packaging firms as well as industrial associations including Taipei Computer Association, Taiwan Semiconductor Industry Association, SEMI, Taiwan IoT Technology and Industry Association, Taiwan IC Design Society and Taiwan IC Industry & Academia Research Alliance.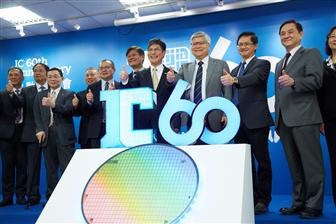 "IC 60" series activities kick off
Photo: Michael Lee, Digitimes, June 2018