AWS to set up innovation center in Taiwan
Heemie Weng, Taipei; Adam Hwang, DIGITIMES
Friday 12 January 2018
Amazon Web Services (AWS) and the government of New Taipei have signed an MoU for setting up a joint innovation center in the northern Taiwan city. The center will start operation in March 2018 with a goal of incubating at least 15 startups a year.
The center, located in the Taipei Far Eastern Telecom Park (Tpark), will be run by FCC Partners, a boutique investment bank operating in greater China region, according to the city government.
AWS will not provide monetary funds for the center but instead will provide free intellectual capital, mainly AWS cloud computing services and tools, and face-to-face technical consulting to help startups develop cloud computing or AI (artificial intelligence) applications, said Alex Yung, AWS corporate vice president and greater China managing director. The city government will help AWS communicate with local enterprises, for AWS hopes to promote public cloud services in the Taiwan market via the center.
AWS and FCC Partners will form a joint committee to screen applicants seeking to join the center. For each startup accepted, AWS will provide a credit worth US$5,000-100,000 for free use of AWS cloud computing services and tools. Startups can station at the center for six months with the option of a six-month extension.
AWS has set up four joint innovation centers in China - two in Shanghai, one in Chongqing and one in Qingdao. The Taiwan center is the fifth in Asia.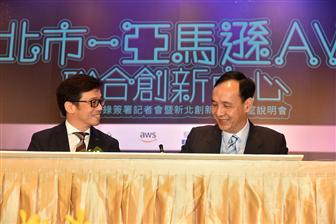 New Taipei mayor Eric Chu (right) and AWS corporate VP Alex Yung sign an MoU for establishing an innovation center
Photo: New Taipei City Government