Positioning as a supplier of intelligent client solutions to strengthen strategic planning for overseas market expansion
Press release
Wednesday 21 December 2016
Clientron has accumulated extensive experience in developing embedded systems and is expanding the success to deliver impressive results in thin clients, point of sale (POS) systems and IoT markets. Joining the D-Link and Partners Team in 2016, Clientron expects to expand its market footprint and bring its operation to a new level.
Introducing industry thin clients for operation in harsh environments
"The thin client market is relatively stable. We have been working on applications for the government, enterprise, banking and education sectors and penetrating into special application markets in the U.S. with our brand customers," said Kelly Wu, President & CEO, Clientron, as she introduced the company's launch of industry thin clients earlier this year. "These products are used for incinerators and parking lot payment systems. Their fanless, ventless and whole aluminum housing design makes them dust proof and enables them to sustain harsh environments. We upgraded the thin client spec to industrial PC standard to significantly boost reliability and broaden application range," added Wu. Clientron's high-end thin clients supporting 4K definition and triple screen display have been adopted by the healthcare sector.
Running virtual desktops sulution, Clientron thin clients reduce TOC and enhance security for customers. This is the reason why the products are enthusiastically embraced by customers to replace industrial PCs in certain application scenarios and that their market share continues to grow.
In terms of POS systems, Clientron's ultra-slim Wing350w and Ares650 won the 2016 Taiwan Excellence Award and the Bello series was recently recognized with the 2017 Taiwan Excellence Award. Clientron's all-in-one POS with a sleek, lightweight and streamline design in an aluminum enclosure revolutionizes traditional heavy POS systems. A wide range of peripherals are available to suit various logistics and service applications. "Many emerging markets have certain demand for exquisitely designed POS systems. Russia, for example, is Clientron's next target of expansion," indicated Wu. Clientron joined the D-Link and Partners Team in 2016, which will help expand its global footprint.
Joining the D-Link and Partners Team and tapping into global channel resources
The D-Link and Partners Team, founded by John Hsuan, Chairman, D-Link, aims to leverage D-Link's advantages in its worldwide channels comprising a complete structure and network of human resources, logistics and finances to help premium quality vendors across a range of sectors expand globally from their base in Taiwan. Clientron is positioned in the team as a supplier of intelligent solutions in a smart environment. "We will integrate a variety of high quality products from our strategic partners and provide more comprehensive solutions to customers," added Wu. "Benefitting from D-Link's sales channels, warehousing, logistics, service & maintenance and customs clearance, we will be able to quickly penetrate into overseas markets that were originally out of our reach due to limited resources. Russia is a good example."
In addition to providing high quality products, Clientron has also been targeting the IoT market, positioning itself as a total solution provider. As Clientron has accumulated system-related software R&D capability as well as domain knowledge and established partnerships within the IT industry, it is able to more swiftly deliver complete vertically-integrated system solutions compared to its competitors.
Expanding into agricultural and livestock markets with environment-monitoring IoT solutions
Clientron has been working with a winner of Taiwan's Outstanding Agricultural Professionals Award to set up test sites at his chicken poultry farm where automatic sensing and monitoring of a variety of environmental conditions such as temperature and humidity are used to raise the breeding rate. Through the field testing and collaboration experiences, Clientron can quickly gain industry know-how and thereby design products and solutions tailored to suit customer needs. Wu stated, "In addition to livestock, we will extend our environment monitoring IoT solutions to applications in agriculture, aquaculture and other sectors." Clientron will begin to actively participate in international agricultural and animal farming trade shows and will also establish a new IoT business unit in 2017. It will increasingly devote more resources to its IoT market expansion.
It should be mentioned that Clientron is one of a few Taiwan-based vendors capable of penetrating into the supply chain for tier-1 automakers. Clientron's event data recorders (EDR) have been mounted on chartered tour buses and passenger buses as well as vehicles transporting hazardous materials. Looking forward, we can expect to see Clientron, which started public trading this year, take a more active approach to its strategic planning to capture the growth opportunities in POS and IoT markets.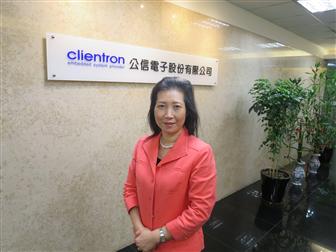 Joining the D-Link and Partners Team will help Clientron's overseas expansion, states Kelly Wu, President & CEO, Clientron.
DIGITIMES' editorial team was not involved in the creation or production of this content. Companies looking to contribute commercial news or press releases are welcome to contact us.