Discovering the trends of flexible electronics: FPCB output value is estimated to grow to US$11.63 billion in 2013, up 8.9% from 2012
Press release
Monday 18 March 2013
In a research report on the global flexible circuit board (FPCB) industry from PR Newswire in 2013, Reportlinker.com pointed out that 2012 was an excellent year for FPCB makers as the component was being broadly used in most of the popular IT products, especially tablets and smartphones, both of which were driving the strong growth in the FPCB market. The global FPCB market reached US$10,680 million in 2012, rising 15.2% compared to 2012. Compared to other IT parts and components, the FPCB achieved strong growth in 2012 and its powerful momentum will continue and drive growth in 2013. The global FPCB market is expected to reach US$11,628 million in 2013, up 8.9% on year.
Currently, almost 90% of the global FPCB output value is contributed by Japan, the US, Taiwan and Korea, and the global top-4 FPCB makers are all Japan-based. Taiwan- and Korea-based FPCB makers place most of their business focuses on applications for personal consumer electronics, such as touch panels, smartphones and game consoles, while the US- and Japan-based makers focus mainly on high-end precision electronics sectors, such as aerospace, defense and weapons, high-end medical equipment, hard disk drive components and precision rotary joints. The entry barriers of these high-end sectors are still too high for Taiwan-, Korea- and China-based FPCB makers, but these sectors offer the most added values and profits in the FPCB market.
US-based Expert Assembly Service, Eurocircuits USA, Moog Components, and Aurora Circuits are all well-known FPCB specialists that have achieved extraordinary performance in the high-end sectors mentioned above. These FPCB makers started showing interest in Taiwan's FPCB ink supply chain in 2013 and have recently started making requests for quotations, conducting tests and placing orders, giving Taiwan-based FPCB ink suppliers access to the US-based FPCB makers' supply chain. In the past, most of the US-based FPCB makers almost only used inks from Japan-based suppliers and hardly used inks from Taiwan. But the development trends in the application markets and improvements in Taiwan's ink technologies and quality have changed the US-based FPCB makers' purchase habits. More importantly, only Taiwan's FPCB ink suppliers are able to handle the US-based makers' demands for products that are diverse in types, small in shipment volumes and highly bendable.
The Apple iPhone has sparked demand for 3G smartphones from consumers, but many consumers do not know that inside the handsets from Apple, Nokia, Motorola, Samsung, Asus and HTC, there is a breakthrough material developed by Taiwan's FPCB industry. It is this material that allows handsets to become lighter and thinner. Now Taiwan makers are working on ways to lower smartphone costs. As the integration of the FPCB with the rigid PCB is able to replace the functions of conventional connectors, it can not only enhance the stability of electric currents, but also further lower the thickness and weight of handsets. The PI cover layer, which has been widely used to protect cables on the FPCB, can also be replaced by flexible inks that have high flexural strength. This will further lower the costs of handsets.
In the past, FPCB component supplies were mainly controlled by Japan-based makers and Taiwan only had a share of less than 30% in the global FPCB ink market. Because of component cost concerns, FPCB makers now hope to receive support from Taiwan's supply chain, which in turn also hopes to have more control of component supplies. After years of hard work, Taiwan makers have made achievements. Of these makers, flexible ink supplier TeamChem Company's products have already been adopted by 70% of Taiwan's FPCB makers. TeamChem Chairman Todd Yeh pointed out that the company's flexible inks are made of heatset soft rubber and in addition to acting as solder masks, the inks can also enable heat dissipation. When adopted to replace the PI cover layer, the inks can fully wrap up the flexible cables, preventing the cables from breaking during bending. Heat generated by the electric current passing through the cables can be dissipated through the surface of TeamChem's flexible inks. In 2013, TeamChem has internally developed its own photoimageable coverlay, which can completely resolve FPCB makers' long-term problem concerning the plug-hole process. At a recent FPCB technology conference hosted at the Shenzhen Industrial District in China, the new technology attracted the attention of several FPCB makers, with most of them having decided to cooperate with TeamChem in developing related applications.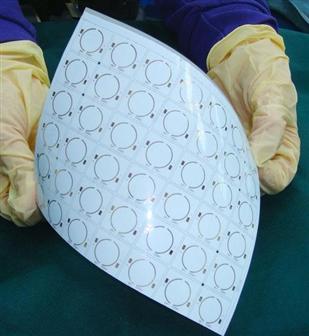 TeamChem's FPCB ink is applied on a flexible substrate.
DIGITIMES' editorial team was not involved in the creation or production of this content. Companies looking to contribute commercial news or press releases are welcome to contact us.