Strong smartphone demand boosts FPCB industry
Press release
Friday 28 September 2012
The Apple iPhone has ignited consumer demand worldwide for 3G smartphones, but many consumers are unaware that Taiwan-based flexible printed circuit board (FPCB) makers have made great contributions to handsets from Apple, Nokia, Motorola, Samsung and HTC, particularly in terms of innovative development of new materials.
These innovative new materials help realize thinner and lighter product designs. Their influence actually extends beyond the smartphone industry. Products such as e-book readers, tablets, LED-based LCD TVs and notebooks can also benefit from these.
Flexible electronics play a key role in breaking through the limitations of existing technology for components. Flexible electronics are produced by directly printing electronic circuits and electronic components that are created using semiconductor technology on to flexible substrates by means of photo-imaging technologies.
Such circuit boards, which are line-etched and covered with FPCB solder mask protection, are known as flexible printed circuit boards, but are more commonly referred to as FPCB.
These light, thin, flexible and shock-resistant products have a broad range of applications, including RFID electronic tags, smartphones, LCD monitors, notebooks, e-book readers, flexible solar cells, flexible lighting, flexible memory and flexible digital signage.
Resolving the longstanding yield problems for bonding PCBs and FPCBs
Taiwan's FPCB industry got off the ground later than that of Japan, but it is rapidly catching up. However, as the use of IT and consumer electronics products has expanded, the ability to replace traditional connectors with FPCBs has effectively enabled reductions in the thickness of product components and helped enable IT products to become thinner and lighter. As a result, FPCB makers have experienced their first boom in several years, putting them in the enviable position of running at nearly full production capacity.
An issue with the FCBP manufacturing process that has plagued R&D engineers for a long time concerns the intersection between the FPCB and the rigid PCB. This area can easily fracture after being bent several times, with the result that makers have been unable to raise yield rates.
The crux of the problem is the solder masks used, since many rigid PCB makers only entered the FPCB business in the past few years and their previous experience led them to use solder masks intended for rigid PCBs when manufacturing FPCBs. Since rigid PCB solder masks are not sufficiently flexible, the resulting boards easily crack when bent. A good FPCB solder mask is made using epoxy resin as the basic raw material and the mask can withstand baking in a high-temperature environment, while remaining soft and highly flexibility. When the board is bent, the mask will extend along the substrate's curvature to avoid cracking.
Taiwan's FPCB industry has made great strides forward in terms of production technology over the last few years. FPCB makers using continuous roll-to-roll production have increased capacity fivefold without adding equipment or manpower, while those that have adopted panel production methods have seen capacity increase by as much as eight times, again without adding equipment or manpower. The most important factor in the explosion in FPCB capacity is perhaps the use of the latest thermosetting FPCB solder masks. These newly developed masks make it possible to reduce the baking time from more than an hour to just one minute
This critical one-minute curing allows a dramatic increase in production capacity.
TeamChem demonstrated new FPCB mask applications to production process managers from FPCB makers at a technology show, as well as introducing its latest quick-dry FPCB mask and conducting onsite demonstrations involving a one minute bake in a 150 degrees C oven and a five minute test bake in a 120 degrees C oven – to demonstrate that the company's mask can be fully dried on the FPCB in five minutes, so that the FPCB could be used straight away for bending experiments. The mask's characteristics of quick drying and strong bending tolerance have impressed FPCB makers and led them to think again about ways to reduce costs and raise capacity using the new process.
FPCB makers that attended the demonstration noted that while TeamChem did not reveal the manufacturing process of its new quick-dry FPCB mask, their observations on the look, feel and smell of its formulation, mixture and screen coating led them to speculate that the mask uses macromolecular nanomaterial technologies to change the polymer structure of the ink to reduce the baking time to a mere one minutes.
Dr. Todd Yeh of TeamChem indicated that the company's flexible mask is a type of thermosetting resin, which has both solder masking and surface heat dissipation properties. When the mask is used to replace PI cover film, the flexible ink will envelop the flexible cables and stretch to protect them from breaking when the board is bent. The heat dissipation properties of TeamChem's flexible mask also help dissipate the heat created by current in the cable through the layers of ink, allowing greater stability in the signal within the cable. The company's flexible masks are already the designated handset FPCB mask for several major handset brand vendors, while wider R&D on further applications of the product are currently underway.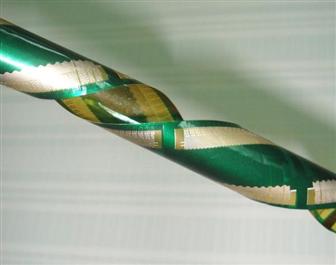 TeamChem's FPCB mask allows FPCB to better tolerate bending
DIGITIMES' editorial team was not involved in the creation or production of this content. Companies looking to contribute commercial news or press releases are welcome to contact us.