HOLUX unveils the most up to date technology and product for driving safety and outdoor sports at 2012 COMPUTEX
Press release
Thursday 7 June 2012
With the 2012 COMPUTEX Taipei opening at the Taipei World Trade Center from June 5~9, HOLUX brings you the latest products including car digital video recorder GVR-2100 G1, robust navigation device- GPSmile 61CS (for motorbike, marine, and aviation), fatigue detector DFD-100B with DVR, outdoor GPS- FunTrek 132, vehicle tracking device Tracker 5510, and many more!
Digital Video Recorder
GVR-2100 G1 records video in FULL HD 1080p (1920x1080) at 30fps and HD 720p up to 60fps. The 5.0 megapixels lens and aperture F/2.0 record the clearest video and great quality photos. This device supports G-sensor for automatic emergency recording for important incident. The device is easy to mount, setup, and record by a single touch!
GPS Navigation
GPSmile 61CS is robust, shock resistant, water & dustproof outdoor GPS designed for motorcycle, aircraft, and marine. It offers an infinite variety of features, suitable for mountains, roads, and even for the sea. Passed the IPX57 certification, the device is both waterproof and dustproof allowing users to enjoy their journey without afraid of the bad weather and dusty environment. In addition, GPSmile 61CS supports wireless voice communication with Bluetooth headsets that can be switched among for headset, music, phone, and navigation.
Fatigue Detector
DFD-100 is a driver fatigue detector that detects driver's level of "awakens" to alert drivers from driving fatigue caused accidents. It is designed with the ultra-wideband heart rate sensing technology and a patented HPV/fatigue detection algorithm. No electrode patches in direct contact with the skin are required. The DFD-100 issues a warning whenever the driver's vigilance level drops below the set-up limit to reducing accidents caused by fatigue.
Handheld GPS
FunTrek 132 is a handheld outdoor GPS that suitable for all kinds of outdoor activities. Same with its well-know predecessor FunTrek 130 which have won 2011 Best Choice award and Taiwan Excellence Award 2012, FunTrek 132 displays many useful sport information, including speed, barometer altitude, calorie, CO2 reduction, and more.
Beside the Trip computer, Plot, Track, and Waypoint management, the device also comes with many useful applications, such as Geocaching, Follow Course, Compass, and Heart Rate Training...etc. Furthermore, FunTrek 132 support customized maps from OpenStreetMap and scanned maps to use with ViewMap function which allow zoom in/out and overlay tracks and waypoints.
Certified with ANT+, Holux has been developed the heart rate monitor, speed and cadence sensors that also work with FunTrek 132. The bundled ezTour Plus/ ezTour Planner software allow users to plan routes before they head out and make fitness analysis afterwards. ezTour Plus can synchronize track logs with geo-tagged photos directly on Google map, and it helps users to track and analyze their fitness activities. Plus, a share to Facebook function was implementing in ezTour Plus that allows users to upload photos and tracks to Facebook to share memorable photos and routes with friends and family.
Vehicle Tracking Device
Tracker 5510 is a vehicle tracking device built-in with G-sensor to support extensive battery hours, FOTA (Firmware Over the Air) to allow remote firmware update, and multiple I/O for user specific applications. To cope with various application requirements, Tracker 5510 support customized tool allows customers to fine tune their needs
At 2012 COMPUTEX Taipei, you absolutely cannot miss the best opportunity to experiences new technology and our hot-selling products. Welcome to visit HOLUX booth (D0325, TWTC Hall I) to witness our breakthrough products and solutions.
For more product details, please refer to HOLUX website: http://www.holux.com/
About HOLUX
HOLUX Technology Inc. has been designing and manufacturing high-quality, function-rich GPS products for years. Our products include Outdoor GPS, GPS trackers, PND, car DVR, GPS receiver/ logger, GPS module, Healthcare, and ODM/OEM products to meet various customers' demands.
News Contact:
Marketing Planning Dept.
Manager
Kevin Chen
TEL: +886-6687-000#1323
Mail: Kevin_chen@holux.com
Marketing Planning Dept.
Senior administrator
Kate Wang
TEL: +886-6687-000#1207
Mail: kate_wang@holux.com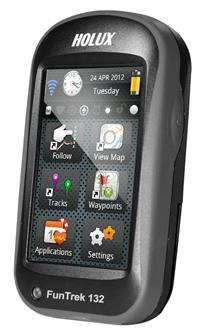 Holux FunTrek 132